This Portfolio will show a small selection of the types of work OWA has produced for a wide variety of settings both indoors and out with a broad selection of clients. The range of scale is also reflected in the works here.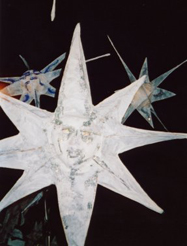 A variety of Lanterns, include withy and tissue work, woven foam and ribbons. Larger than life Winter Queens, a fairy, and Jack Frost have led lantern processions.
Lanterns are lit with Solar charged battery powered LEDs.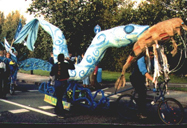 Bikes have fitted and welded extensions to carry framework and allowing movement.
Birds, insects, fish and a dragon have been made.
The Dragon is made with a wire frame, covered in netting with scales made from cut and melted green plastic bottles.
These projects can include lighting.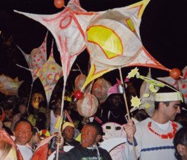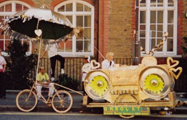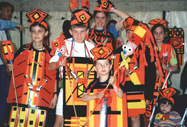 Working to themes Costumes can be created for processions, fashion shows. Previous commissions include India's independence, costumes based on Ndebele patterns of South Africa, birds, fish, recycled fashion and graffiti.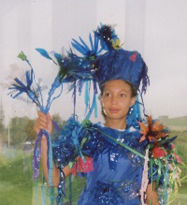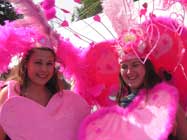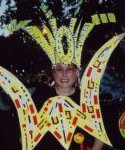 OWA have a collection of Flowers, which can be used as site decoration or inspiration for workshops.
Small flowers made from plastic bottles, made in their thousands can be used to cover large scale pieces such as Millenimum or Carmen figure.
Larger flowers are made from party poppers, cut and threaded plastic bottles, cut plastics, and variety of other materials.